The state-of-the-art Tecnam P TwentyTen is the most advanced high-wing modern single-engine aircraft in the marketplace, today with Continental CD-170 Diesel engine. This four-seater aeroplane brings together an advanced technology all carbon fibre fuselage with a metal wing and stabilator, an expansive cabin featuring ergonomic front and rear seats with exceptional legroom and a separate third entry door. The wide composite cabin allows for a large instrument panel with state of art avionic options: twin-screen G1000 Nxi IFR, new Flat-Panel Suite with integrated GFC700 autopilot. Carbon fibre ensures smooth surfaces and allows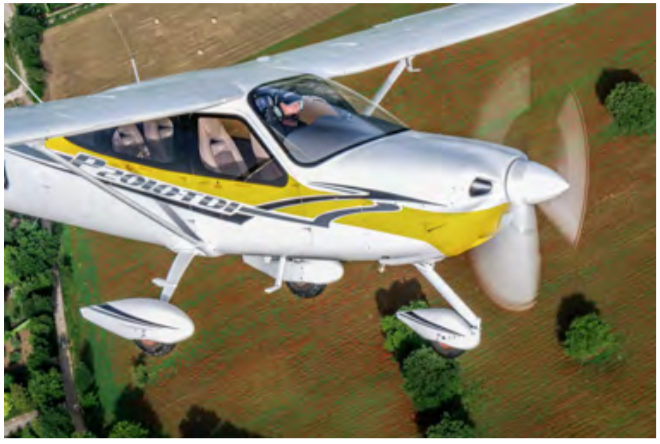 for an elegance and styling you would expect from Tecnam's Italian design team. Metal is used for the wing and stabilator to provide further strength and stability. The wing is based on the well-proven NACA63A aerofoil. Through partial tapering, the design brings it close to the optimal lift distribution (elliptical). The all movable type (stabilator) horizontal tail, a trade mark of all Tecnam aeroplanes, allows for excellent controllability and 'hands off' longitudinal stability.
Tecnam's choice of Diesel fuel offers the following benefits:
• Reliability and safety thanks to the redundant FADEC system (Full Authority Digital Engine Control) without mechanical back-up;
• Significantly lower operating costs due to lower consumption and lower fuel prices for kerosene in many countries;Comfortable operation;
• Jet fuel, same as for civil and military jet aeroplanes;
• Compliance with U.S. DoD requirements: one single fuel;
• Consumption up to 50% (long range cruise) less fuel than comparable ignition engines;
• Payload and range improvement;
• Instant start;
• Availability of supply where Avgas is unavailable
Certification
The Model P TwentyTen is certified to the requirements of EASA CS-23 - FAR 23 including day, night, VFR and IFR. Export certification requirements may require additional equipment and charges.