G5000H brings touchscreen glass flight deck technology to medium-lift helicopters. With a G5000H onboard, your crew has the ultimate in safety, efficiency and operational simplicity.
Touch and Go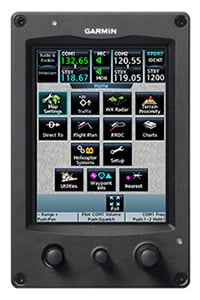 G5000H features one of the most intuitive interfaces available in any helicopter avionics system, completely revolutionizing the way you access flight data. Up to 4 Helicopter System Management touchscreens act as the gateway to your entire avionics suite. Responsive, icon-identified "touchkeys" make functions easy to locate and access with fewer hand/eye movements in the cockpit. With a few finger movements, you have complete access to NAV/COMM functions, remote audio/intercom system, flight management systems, Category A calculations, hover performance and electronic checklist entries. You also have fingertip access to electronic charting, traffic, weather, entertainment, digital document display and other custom features*. To make things even easier, you can also use Telligence voice command technology to enable some of these functions just by by pushing a button on the controls and speaking a command.
Visualize Intuitive Flight
With its touchscreen controls, G5000H eliminates visual clutter. Mechanical knobs, buttons and selector switches have been replaced with a series of large, landscape-oriented high-resolution displays. Each display can function independently as a Primary Flight Display (PFD) or Multifunction Display (MFD). These displays can also operate in multi-pane mode, which allows you to view 2 pages side-by-side on a single display. You can choose to view your primary flight display, maps, charts, checklists, synopitcs, HTAWS, flight planning, weather or video input side-by-side on any of the displays.
Your PFD's wide screen aspect ratio provides a panoramic view of our HSVT, which enhances your situational awareness by creating a "virtual reality" depiction of ground and water features, obstacles and traffic in proximity to your aircraft. You get a realistic picture of what lies beyond the nose of your helicopter — even in solid IFR or nighttime VFR or low-visibility conditions.
Unprecedented Situational Awareness
An optional Helicopter Terrain Awareness Warning System (HTAWS) in G5000H predicts in advance where potential hazards may lie and alerts you should they pose a threat. The 5-color Terrain Proximity display makes it easy to see just how close you are to a potential threat while voice callouts announce the helicopter's height above terrain while descending below 500 feet. And ADS-B enhanced traffic collision avoidance alerting allows you to see what ATC sees, thus allowing you to steer clear of other aircraft.
Advanced Audio, Communications and Weather
3D Audio technology in G5000H helps you focus on and understand 1 particular audio source from among many by mimicking the way the human ear registers sounds in space. For example, COMM 1 will seem to be coming from the left while COMM 2 may seem to be coming from the right, making it easier to discern a call from ATC from inbound weather.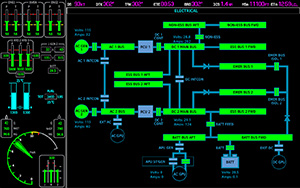 Available World Wide Weather coverage displays graphical weather such as NEXRAD, METARs, TAFs, winds aloft and more, allowing for quick go/no go decisions. And available text and voice connectivity allows you to coordinate arrangements with those that matter on the ground.
Stay on Top of Trends
Graphical synoptics for airframe, electrical and fuel systems offer easier monitoring of engine trends and faster troubleshooting of problems. The system is designed to be easily updated, not only allowing for quick database and software updates, but also support for future technologies as they evolve.
---
*GPS receiver has a nominal operating velocity range of 0 – 800 kts (411 m/s).
*Suggested applications may require optional equipment, sold separately. Specifications and descriptions are preliminary and subject to change without notice. Standard and optional features will vary based upon the specific implementation chosen by the airframe OEM.